Mira Amusement West Island Family Entertainment Arcade Center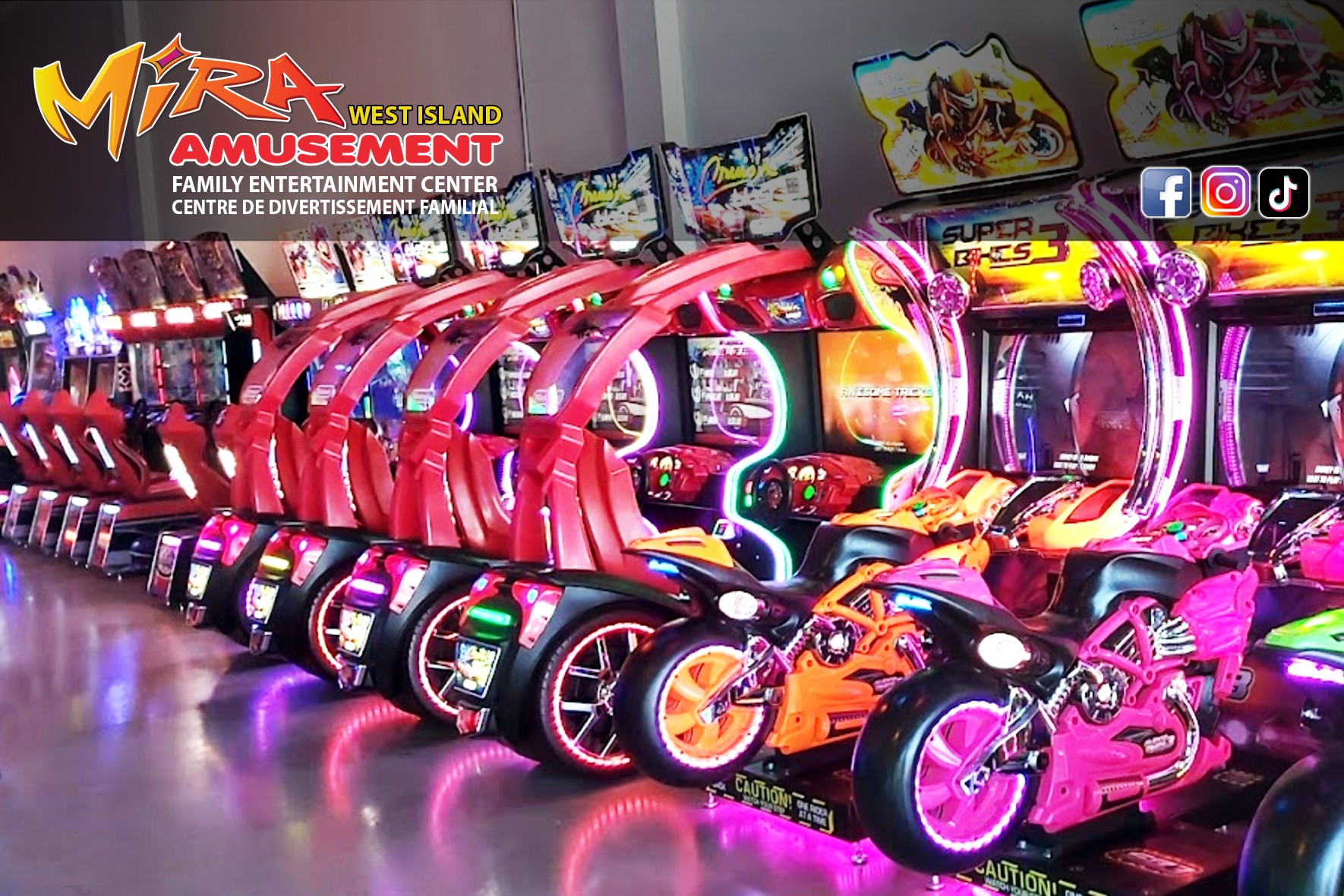 MIRA AMUSEMENT WEST ISLAND - Family Entertainment Arcade Center!
FEATURING OVER 65+ ARCADE & PRIZE REDEMPTION GAMES !!!
Open 7 days/week !
Our new family-friendly entertainment arcade center is located in the heart of Montreal's West Island!
Whether you're a hardcore gamer, a family looking for a fun activity, or a group of friends/colleagues seeking an exciting night out, our new arcade will surely level up your fun. We have a vast array of arcade games and huge selection of redemption games so you can trade in points for great prizes. A great choice for group fun and team building events.
We are open to kids and adults, families and great for date nights. We accept bookings for private events and there's also a party room available for your kids' birthday party special events!
So bring your friends and family to enjoy an exciting place to let loose and relax with your favorite people. Reach high scores, win prizes and have a blast! No matter who's ready for fun - there's something for everyone!
Our arcade games use a Digital Play Card, you purchase the amount you want to play. We use state of the art technology to enable you to play the games while tracking your redemption points. Simply load, tap, play and win - quick and easy. After you've racked up game points, walk over to the Redemption Counter and select the spoils of victory. Our sophisticated game card software allows us to enter your ticket balance on your game card to save up for that special large prize you really want.
We have a party room which is available for private rentals. For details/packages/pricing/availability, etc, please email us your 1st & last name, tel# & best time to reach you, a Mira Amusement representative will contact you with a party package that best suits your needs. 
• Facebook / Instagram / TikTok: @miraamusementwestisland
• 48-C Brunswick Blvd, Pointe-Claire, QC H9B 2L3 (SOURCES MEGA CENTER)
• Email: MiraWest@MiraAmusement.com
• Telephone: 514-316-6472


CLICK HERE for more info on MIRA AMUSEMENT WEST ISLAND FAMILY ENYERTAINMENT CENTER
CLICK HERE for more info on MIRA AMUSEMENT WEST ISLAND Party Room Rentals